Complaints and claims
PETROPERÚ attends the complaints and claims of its main local stakeholders towards the Company, its contractors and / or subcontractors in all its headquarters in a timely, adequate and efficient manner, in order to establish the necessary actions immediately, helping to maintain relationships harmonious. The operation of the mechanism has allowed:
Prevent social conflicts.
Manage relationship and dialogue processes.
Improve the management of the Company.
During 2019 we have attended 1002 cases of complaints and claims with local communities in the different operations, achieving the attention of 70% of the cases in close coordination with the social actors, thus strengthening the social management of the Company. Likewise, 67% of the cases in process are related to labor issues and of these, 98% are related to contractors.

How does the Mechanism for Attention of Complaints and Social Claims of PETROPERÚ work?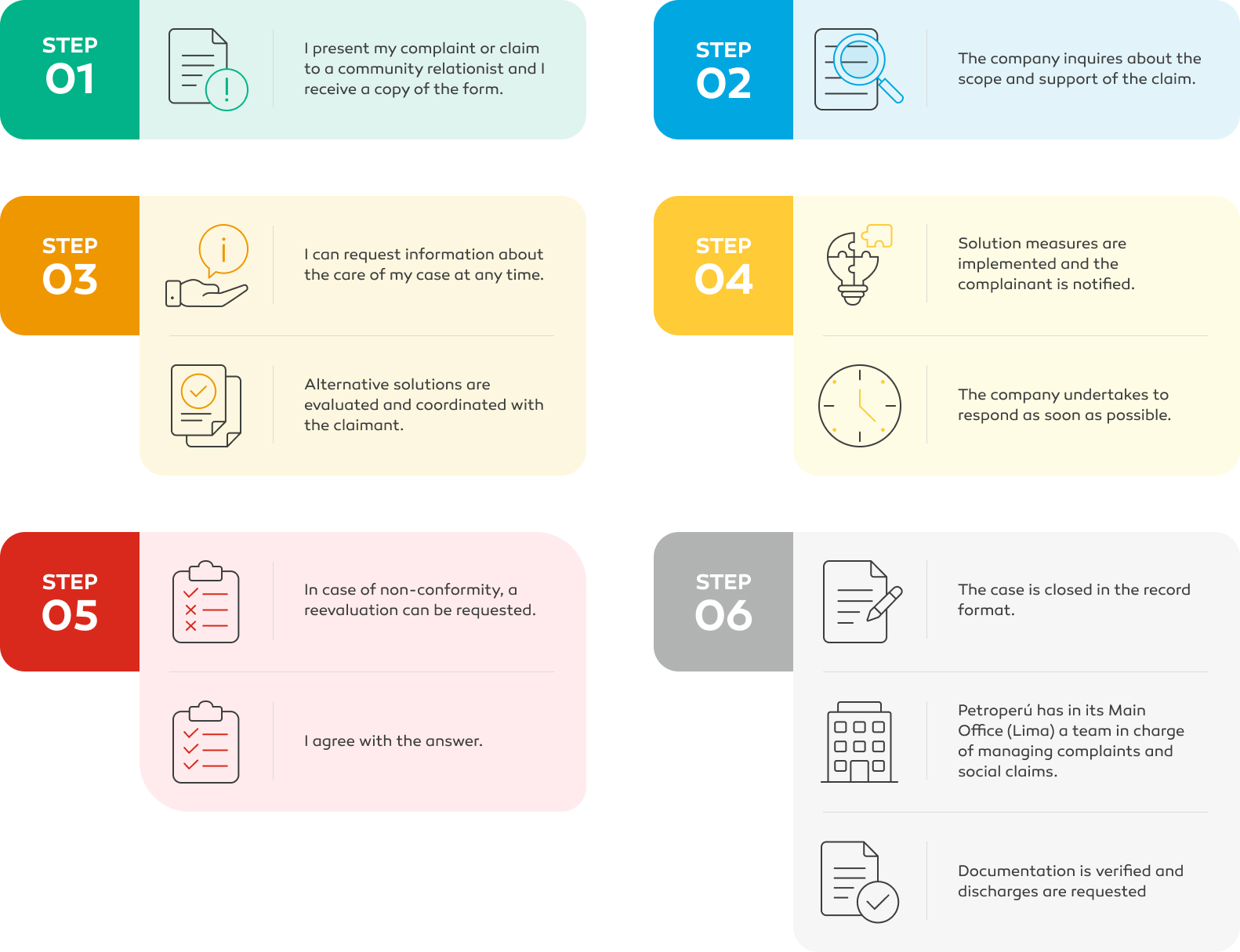 How can I present my complaint or claim to the Mechanism for the Attention of Complaints and Social Claims of PETROPERÚ?
If you want to file a complaint or claim, there are different service channels:
In Person:
In Talara: go to the PMRT Citizen Information and Participation Office, located on Av. C s / n (in front of the PETROPERÚ Social Club)
In Iquitos, Conchán, and Piura: visit the PETROPERÚ community relations offices
In the North Peruvian Pipeline: contact our Community Relations team or go to the PETROPERÚ stations.
At the Main Office (Lima): come and request attention from the Community Relations team.
Email: write to us at quejasyreclamos@petroperu.com.pe