We are sustainable
At PETROPERÚ we are committed to sustainability, defined as a responsible business management approach that promotes the triple bottom line: economic, environmental and social, integrated across business planning and involving our main stakeholders.
This approach will allow us to maintain our leadership in the sector as a profitable company with social and environmental responsibility, creating shared value, since our policies and actions, while contributing to the competitiveness of the company, help to improve the economic conditions and social aspects of the communities where we operate at the national level. As part of this process, we periodically identify the perceptions and expectations of priority stakeholders and evaluate them together with our business objectives.
We plan and execute various sustainability projects and programs, which have allowed us to comply with applicable legislation and actively contribute to the United Nations Sustainable Development Goals.
Along these lines, we are committed to the implementation of a circular economy production and consumption model that guarantees sustainable growth over time, making the most of the material resources available to us. In this way, we will promote the optimization of resources, the reduction in the consumption of raw materials and the use of waste, recycling them or turning them into new products.
Thanks to our good sustainability practices, we obtained the 44th position of the 100 best companies in the country in terms of reputation, according to the Merco Companies and Leaders of Peru 2020 Ranking.
We contribute to the United Nations Sustainable Development Goals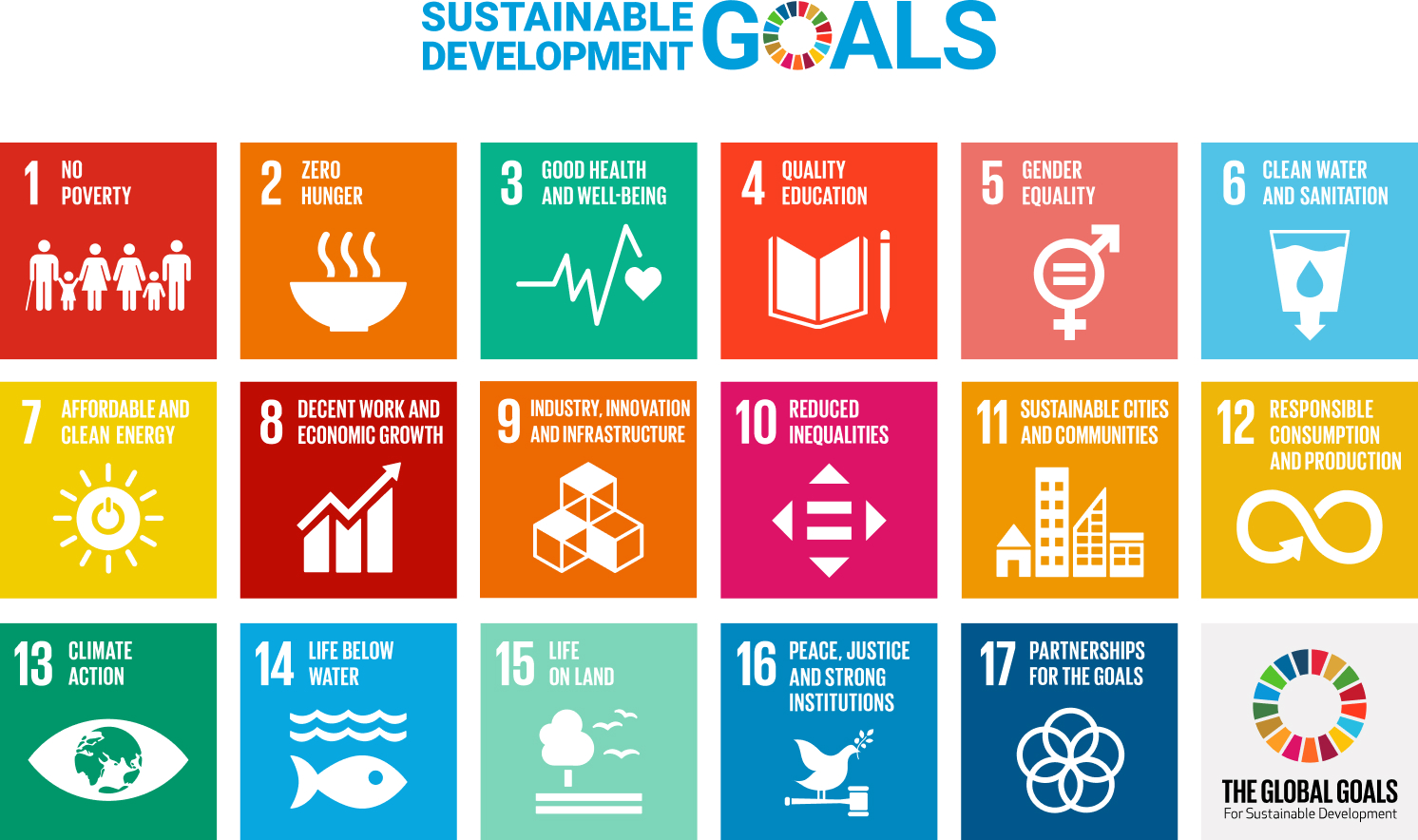 Our Sustainability Strategy
We have a sustainable development model that establishes our corporate strategy together with the guidelines and commitments to mitigate, reduce and compensate for the economic, social and environmental impacts generated by our operations.
This model of sustainable development is based on the Rio Declaration on Environment and Development (UN, 1992) and on the Universal Declaration on Cultural Diversity – Convention on the Protection and Promotion of the Diversity of Cultural Expressions (Unesco, 2005).
Likewise, we have a Social Management Policy through which we are committed to business management that places this issue in the same range as the economic, environmental and quality aspects, in compliance with the laws.
It is also committed to the principles of the United Nations Global Compact, the Equator Principles, the Universal Declaration of Human Rights, the Organization's Principles for Financial Cooperation and Development and best practices in this area.
We have an Institutional Biodiversity Management Policy, in which we assume our firm commitment to its protection and conservation, in compliance with our legal system, as well as voluntary and union commitments.
Our Sustainable Development Model
Social: We promote social equity and the participation of our stakeholders.
Production ethics: We modernize our processes seeking the best technologies, transparency and ethics in our management.
Economic: We strengthen local capacities so that the community grows together with the company.
Cultural: We respect the cultural diversity of our peoples and strengthen national identity.
Environmental: We implement environmental management systems and remedy our liabilities.
Our Strategic Objectives
Our sustainability model is in line with our 2019-2023 Annual and Five-Year Goals, approved by the PETROPERÚ Board of Directors and the Ministry of Energy and Mines, through Board Agreement No. 085-2018-PP of 10/01/2018 and Ministerial Resolution No. 048-2019-MEM/DM, published in the newspaper "El Peruano" on 02.21.2019, respectively.
Strategic Goals 2019-2023:
Supply the market efficiently.
Operate efficiently, safely, by preserving the environment and generating high-quality products and services.
Financial Sustainability of PETROPERÚ.
Ensure the sustainability of our operations.
Strengthen PETROPERÚ through the management of human talent and good corporate governance.
Ongoing dialogue
Our sustainable management is based on dialogue with our stakeholders due to the importance of incorporating their perceptions and expectations in PETROPERÚ's improvement processes. For this reason, we identify our stakeholders and continually review the changes they present. Currently, we interact harmoniously with our ten stakeholders, through different communication channels.